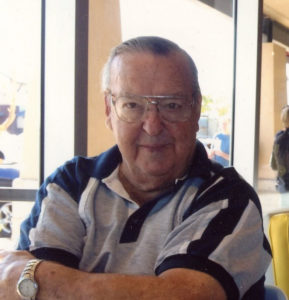 Marvin R. Wallner, age 89, of Friendship, Wisconsin passed away Thursday, October 13, 2016 at his home.
Memorial services will be 1:00 p.m. on Saturday, November 5, 2016 at Roseberry's Funeral Home in Friendship. Pastor Joel Gilbert will officiate. Marvin's son, Dan Wallner will give the eulogy. Visitation will be 11:00 a.m. until the time of service on Saturday at Roseberry's Funeral Home.
Marvin was born December 17, 1926 in Milwaukee, Wisconsin to Ignatz and Della Wallner.
Marvin attended school in Milwaukee and then enlisted in the United States Navy serving during WWII. He was honorably discharged as a Gunner's Mate in 1946. Marvin married Mary Louise Komatz on September 20, 1947 in West Allis, Wisconsin. During his career he worked for the Wisconsin Ice and coal company and went on to retire from Milwaukee County after working for the transit department, Milwaukee county Zoo and the Highway Department as an equipment operator for 23 years. Following his retirement in 1985, Marvin moved to Adams County.
Marvin enjoyed snow skiing, golf, traveling and spending time with family. He was a member of the Moundview Golf Course where he served as president for many years.
Marvin was preceded in death by his parents, Ignatz & Della Wallner; father-in-law and mother-in law, Mathew & Fannie Komatz; brothers, Harry, Edward, and Charles; sisters, Edna Plutshack and Evelyn Grafenauer; Sisters-in-law, Mary Wallner, Eleanor Wallner, Florence Wallner, Charlotte Wallner, Avis Komatz, Rose Kramer, Ann Buchanan, Kathleen Komatz, and Marilou Komatz; Brothers-in-law, Michael Plutshack, Lawrence Grafenauer, Ernest Komatz, Joseph Komatz, Paul Kramer,  Matthew Komatz, and Robert Buchanan.
Survivors include his Wife, Mary Wallner; Brother, Bruce Wallner; children, Daniel (Tara) Wallner, Randal Wallner, Richard (Teri) Wallner, and Michael (Toni) Wallner; brother-in-law,  Edward (Sue) Komatz;  grandchildren, Megan (Scott) Fritton, Nicole (Joel) Gilbert, Raeann (Bryan) Volk, Jessica Wallner, Cortney (Dan) Wallner, Brandon Wallner, and Jason (Amy) Wallner; great-grandchildren, Keelie, Kensey, and Paisley Gilbert, Josiah and Nathan Fritton, Josh, Blayde, and Boede Wallner, Tatum, Julisa, Zaedee, and Tanyon Volk, Kaitlyn Bergeron, Hailee Wallner, Adalyn Sytsma, Mckenna Robbins, and Paisley Sunderlage and many nieces and nephews.