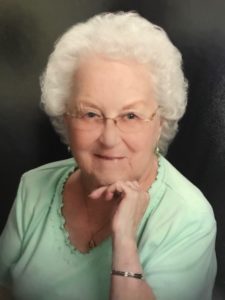 Margaret Louise Hollman, age 94, of Friendship, Wisconsin passed away September 15, 2017, surrounded by her loving family. She was preceded in death by her bother George Lahm and by her cherished husband Donald Hollman on August 18, 2017.
She was born on March 24, 1923, to Adam and Olive (Brown) Lahm above Miss Manthey's Hat Shop on Main Street in Adams, Wisconsin. She graduated from Adams Friendship High School in 1941 where she played French horn and was the Junior Prom Queen. Margaret then attended and graduated from Mount Saini School of Nursing in Milwaukee, Wisconsin in 1944. She wanted to enter the service with many of her classmates but the weight restriction required that you weigh a minimum of 100 pounds and Margaret only weighed 98 pounds. So, she remained at Mount Saini where she worked in OB and taught nurses aids.
On December 5, 1945, Margaret married her high school sweetheart, Donald and celebrated 71 years together. They moved to Badger Village where Donald attended Law School and Margaret worked as an RN at University Hospital. Their first child Donnette was born on September 24, 1946. When Donald graduated from UW Law School, they moved back home to Friendship where Donald opened his Law practice. Their second daughter Connie was born December 17, 1951.
Margaret enjoyed volunteering for many community services including the American Legion Auxiliary, Mound View Hospital Auxiliary, Lutheran Church Ladies Aid, and the Friendship Brownie Leader for many years. She worked tirelessly alongside Donald during the 1957 Friendship Centennial to earn funds for the first hospital in Adams County.
Maintaining her Nursing career, Margaret delivered babies with Dr. Ingersol during the 1950's as well as assisting doctors in the Adams County Immunization Program for all children living in the county. The yearly event was held in the courtroom of the Adams County Court House. She always remembered that whooping cough cost 15 cents and smallpox cost 25 cents.
In 1956 The Hollman's built a home on Friendship Lake using wood that they harvested from one of their tree plantations. You would hear her tell that she would never touch another can of stain or varnish. Their new home provided the perfect place for parties. Every year she would host Donnette and Connie's sledding parties for their classmates, furnishing hot chocolate and homemade cookies.
As family life evolved, flying became the main mode of transportation. She was urged to get her pilots license so that if anything happened to Donald she was able to navigate and land safely. In 1967 she passed her written and flight test with great fanfare from family and friends. She became an active member of the Wisconsin 99's, a membership that Emelia Earhart started for all women pilots.
Margaret is survived by 2 daughters, Donnette (Steve Behar) of Delavan, Wisconsin, Connie (Robert Meyer) of Pewaukee, Wisconsin, 2 grandchildren, Andrew Meyer (Lisa) of Arlington, Washington and Amanda Meyer of Waukesha, Wisconsin. She is further survived by 2 great-grandchildren, Jack Hollman Meyer and Cora Jean Meyer of Arlington, Washington.
Memorial services for both Donald and Margaret Hollman will be 11:00 a.m. on Friday, October 20, 2017, at Roseberry's Funeral Home in Friendship, Wisconsin. Rev. John K. Stake will officiate. Interment with Military Honors will be at the Mt. Repose Cemetery, Friendship. Visitation will be 4:00 p.m. until 6:00 p.m. on Thursday, October 19, 2017, at Roseberry's Funeral Home.  A Masonic service will be held at 6:00 p.m. Visitation will also be on Friday from 10:00 a.m. until the time of service.