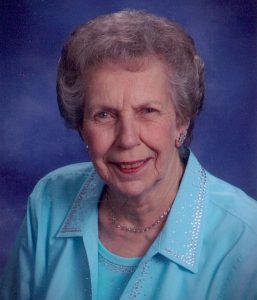 Lucille Jane Graham, age 82, of Arkdale, Wisconsin passed away Wednesday, October 4, 2017, at Aspirus Riverview Hospital in Wisconsin Rapids, Wisconsin with family at her side.
Funeral services will be 3:30 p.m. on Friday, October 13, 2017, at the Arkdale Trinity Lutheran Church in Arkdale, Wisconsin with Pastor Terri Skildum officiating. Interment will be at the East Arkdale Cemetery. Visitation will be 2:00 until the time of service on Friday at Arkdale Trinity Lutheran Church.
Lucille was born July 18, 1935, in Dellwood, Wisconsin, the daughter of John and Rachel (Johnson) Stormoen.
She graduated from Adams-Friendship High School in the class of 1953.
Lucille married William Edward Graham on October 3, 1953, at the Trinity Lutheran Church in Arkdale.
Lucille was a homemaker extraordinaire. She also worked as a cook at Roche A Cri Grade School and clerked at the election polls. She devoted many years as an independent salesperson of Watkins products.
She enjoyed playing the piano by ear, cooking delicious meals, cake decorating, playing cards, visiting with friends and dancing. She had a deep love for cats and enjoyed watching the birds outside. Lucille's greatest joy in her life was her family. She was so proud of her children; Diane, Linda and Glenn and all of her grandchildren and great-grandchildren. They made many memories through the years enjoying family activities, card games, delicious meals and holidays together.
Lucille was a lifelong member of Trinity Lutheran Church in Arkdale, taught Sunday School for many years and served as a member of the Ladies Aide. She was the general leader of the Arkdale Queens 4-H club and the president of the Adams County 4-H Leaders. She was in charge of the 4-H Foods Stand at the fair. She was involved in the Arkdale Community Club.
Lucille was preceded in death by her parents: John and Rachel Stormoen; her husband, William; brothers: Norval, Joseph, Gustave, James; sisters: Alice Terry, Olga Duehring, Rachel Jepson, Ida Ashworth, Rogna Lotzow, Laura Stormoen; sisters-in-law: Rosalie Stormoen, Myrtle Stormoen, Mae Stormoen; brothers-in-law: Tom Terry, August Duehring, Ray Jepson, Harold Ashworth, Edward Lotzow. Also preceded in death by father and mother in law, William and Lelia Graham; brothers-in-law, Bob Graham, Conrad Falk and Dennis Gorder and sisters-in-law Mary Ann Graham and Dorothea Falk.
Survivors include: two daughters, Diane (Kirby) Klinger of Mosinee and Linda (Todd) Trautmann of Onalaska; a son, Glenn (Karin) Graham of Stevens Point; grandchildren, Matthew (Jan) Klinger of Tucumcari, NM, Rachel (Kurt) White of Kronenwetter, Mark (Leah) Trautmann of San Jose, CA, David Trautmann of Minneapolis, MN, Rachel Trautmann of Decorah, IA, Karl Graham of Stevens Point, Julia Graham of Madison; great-grandchildren: MiKayla and Bryson Klinger, Alexandria, Tanner and Ashley White; brothers: John (Audrey) Stormoen, James (Lillian) Stormoen; sisters-in-law: Audrey Gorder, Mary Ann (Tony) Kojis, Phyllis Hazelwood and many nieces and nephews.
A special thank you to Lucille's brother, John, for all the help he gave her in the years after her husband's passing.