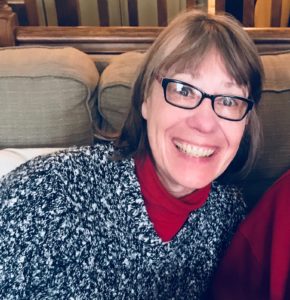 Karen J.Cerasoli, age 64, of Friendship, formerly of Milwaukee, Wisconsin passed away peacefully, Wednesday, August 1, 2018, at her home.
Memorial services will be 11:00 a.m. on Saturday, August 18, 2018, at the South Burr Oak Methodist Church in Coloma, Wisconsin. Rev. Candy Lisiecki will officiate. Visitation will be 10:00 a.m. until the time of service on Saturday at South Burr Oak Methodist Church. A memorial service is also planned for September 22, 2018, in Milwaukee with more details to follow. In Lieu of flowers please send donations to the Heartland Hospice Memorial Fund.
Karen was born October 3, 1953, in Milwaukee, to Donald and Nancy Traber.
She graduated from Wisconsin Lutheran High School in 1971.
Karen married Craig W. Cerasoli on June 10, 1972, in Milwaukee, Wisconsin.
She worked for AT&T for 40 years with many wonderful people and made friends wherever she went.
Karen enjoyed fishing, walking, playing with her grandkids, and loved to sing in the South Burr Oak United Methodist Church Choir. Karen really enjoyed making homemade ravioli and looking forward to the holiday seasons.
Karen was preceded in death by her father and step-mother, Donald & Joan Traber and father in law William Cerasoli.
Survivors:
Husband: Craig Cerasoli of Friendship, Wisconsin
Son: Adam (Christie) Cerasoli of Custer, Wisconsin
Son: Ryan Cerasoli of Milwaukee, Wisconsin
Mother: Nancy Traber of Milwaukee, Wisconsin
Mother-in-law: Carol Cerasoli of Cudahy, Wisconsin
Sister-in-law: Cheryl (Mark Jorgensen) Cerasoli of Oak Creek, Wisconsin
Grandchildren: Makenna, Amiah, Jordan, Madison, Ava, and Khloe
Step-Brother: David Traber of Las Vegas, Nevada, and Madaline
Numerous Aunts, Uncles, Cousins, and Friends