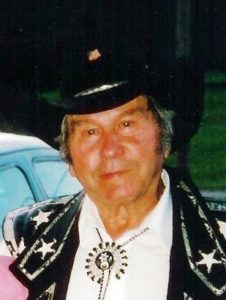 James A. Foth, age 87, of Friendship, Wisconsin passed away peacefully at his home on Wednesday, June 6, 2018, surrounded by his family.
Memorial services will be 11:00 a.m. on Friday, June 15, 2018, at the Redeemer Lutheran Church, W18205 College Ave. in Wittenberg, Wisconsin. Rev. Amy Perron will officiate. Interment will be at the Forest Home Cemetery in Wittenberg. Visitation will be 10:00 a.m. until the time of service on Friday at the church.
James was born May 9, 1931, in Wittenberg to Albert and Caroline (Rosenthal) Foth.
He married Adeline Dickman on May 23, 1953, where they were blessed with two sons. They later divorced in 1984. James then married Rita Lecy in 1988 and later divorced in 2007.
James was a potato farmer all of his life and owned two different bars in Friendship & Big Flats, WI until he retired. James loved country music, waterskiing, fishing, and spending time with his family & friends, especially his cousin & best friend, Lyle Foth.
James is preceded in death by his parents, Albert Foth, Caroline Warnecke, step-father, Fred Warnecke, sister, Delores Ryser, brothers-in-law, Vincent McSorley, Werner Ryser & Dan Nemetz, and 2nd wife, Rita Lecy-Foth.
Survivors include, one sister, Jeannette Nemetz of Wittenberg; two sons, Daniel Foth Sr. of Antigo, WI and Thomas (Cindy) Foth of Adams, WI; four grandchildren, Daniel (Tammy) Foth Jr. of Friendship; Jamie (Nathan Nowak) Foth of Berlin, WI; Nicholas (Heather Schilling) Foth of Grand Marsh, WI; Kari (Matt) Nedbal of Montello, WI and eight great-grandchildren. He is further survived by many nieces, nephews, other relatives, friends, and his two beloved dogs, Lacy & Tia who never left his side.
The family would like to thank Gunderson-Moundview Hospital, Heartland Hospice Care, and all who came to the home to care for James and for their support.