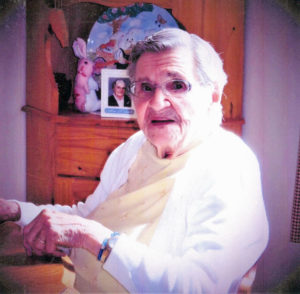 Elva M. Smith, age 93, of Friendship, Wisconsin died Monday, February 13, 2017 at Moundview Memorial Hospital & Clinics in Friendship, Wisconsin.
Funeral services will be 1:00 p.m. on Saturday, February 18, 2017 at Roseberry's Funeral Home in Friendship, Wisconsin. Pastor Marci Nichols will officiate.  Interment will be at the Pleasant Hill Cemetery, Town of Coloma, Adams County, Wisconsin.  Visitation will be 11:00 a.m. until the time of service on Saturday at Roseberry's Funeral Home.
Elva was born November 24, 1923 in Friendship, Wisconsin to Harold and Ella Rook.
She married Edwin A. Smith on January 2, 1946 in Cloquet, Minnesota.
Elva enjoyed reading, doing jigsaw puzzles & word-finds, and sewing.
She was a member of the Royal Neighbors of America.
Elva was preceded in death by her husband, Edwin Smith Sr.; infant daughter, Glory Ann; great-grandson, Bradley Driver; brothers, Harvey (Eunice) Rook & Earl "Duke" Rook and sisters, Clara Blackburn & Jean (Maurice) Bursack.
Survivors:
Son:  Harold (Marilyn) Smith of Plainfield, Wisconsin
Son:  Edwin (Debra) Smith of Rosemont, Minnesota
Granddaughter:  Carolyn (Frederick) Moss of King, Wisconsin
Grandson:  Jeremy (Tricia Raether) Smith of Hancock, Wisconsin
Granddaughter:  Melissa (Nathan Engel) Smith of Chicago, Illinois
Granddaughter:  Tammy Smith of Portage, Wisconsin
Granddaughter:  Teresa (Ronnie) Hopkins of Portage, Wisconsin
Grandson:  Tony (Erin) Smith of Dodgeville, Wisconsin
Granddaughter:  Lynnette (Adam) Nuber of Madison, Wisconsin
Granddaughter:  Courtney (Jason) Kladelhll of Madison, Wisconsin
Grandson:  Benjamin Newkirk of Rosemont, Minnesota
Great-Grandchildren:  Leaha, Mackenzie, Eden, Jekoby, Adam, John, Ryan, Hanna, Dakota, Joshua, Xavier, Jason, Donovan, and Abigail