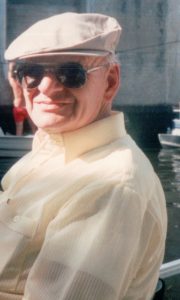 Edward H. Reeves, affectionately known as "Nice Eddy", passed away on Saturday, April 7th, 2018 at 89 years old.
Edward was born on January 12, 1929, in Rhinelander, WI to the late William and Mary Reeves. Edward enlisted in the United States Army and was stationed in Okinawa, Japan during WWII. Edwards enjoyed a long Career with Roundy's Food in Milwaukee until his retirement. Ed was active in the local Teamsters union and was one of the original "Broadway Beauties".
Edward was preceded in death by both of his wives, his 1st wife, and mother of his children Gloria (Bruyette) Reeves who he married in 1948. Edward's second wife Grace (Sautter) Reeves who he married in 1990. He was also preceded in death by his daughter Linda Kirkpatrick and son Bruce Reeves.
Ed is survived by 5 children Marvin (Kathy) Reeves, Kenneth Reeves, Sandra Reeves, Dale Reeves, and Phyllis Mickelson; 23 grandchildren and many great and great-great-grandchildren.
A gathering will be held starting at 11 am and Celebration of Life Services with Military Honors will begin at noon on April 16th, 2018 at Roseberry's Funeral Home 512 Main Street, Friendship, WI 53934.