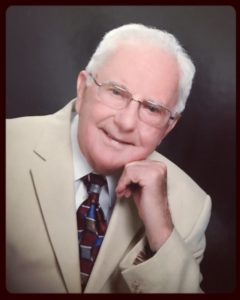 Donald L. Hollman, age 94, of Friendship, WI, passed away August 18, 2017, in Oconomowoc, Wisconsin after a 2-year battle with cancer. His beloved wife, Margaret and loving family were by his side.
He was born in Friendship on March 5, 1923, the only child of Frank & Mela (Polivka) Hollman. He graduated from Adams-Friendship High School and joined the U.S. Airforce serving from 1942-1946.
While in the service he married the love of his life, Margaret Louise Lahm on December 5, 1945. After the war, he and Margaret moved to Badger Village where he commuted to the University of Wisconsin, Madison becoming an honorary member of Pi Alpha Delta Fraternity and receiving his Law degree in 1949.
He is survived by his wife of 71 years, Margaret; his 2 daughters Donnette (Steve Behar) of Delavan, Wisconsin, Connie (Robert Meyer) of Pewaukee, Wisconsin, 2 grandchildren Andrew Meyer (Lisa) of Arlington, Washington, and Amanda Meyer, Waukesha, Wisconsin. He is further survived by 2 great-grandchildren Jack Hollman Meyer and Cora Jean Meyer of Arlington, Washington.
Returning to Friendship after Law school Donald opened his own practice and became very involved in community service. He was instrumental in the 1957 Friendship Centennial helping to raise money to build the Adams County Memorial Hospital and served on the board for many years. Don enjoyed surveying land and one of the projects he was most proud of was his role in creating an alphabetical and numeric system to name the roads in Adams County. He further supported the community as District Attorney, Family Court Commissioner, Village Attorney for 35 years, President of the Quad County Bar for Green Lake, Columbia, Marquette and Adams County, President of the Chamber of Commerce, and a member of the American Legion for 70 years, earning the Red Cloud Congressional Medal of Honor. He was also a Mason and attained the title of Worshipful Master. Don enjoyed participating in various events for the Historical Society. You could see Don leading parades in Friendship for many years. As a Veteran, he participated in the Honor Guard as well as speaking to students at Memorial Day programs.
Never losing the love of flying he purchased his first 2-seater Piper Cub airplane and flew over his beloved Friendship on Sunday afternoons. With the help of the American Legion donating the land he worked tirelessly with them to build the airport. Little did he know how that would change his life. One airplane led to another which could increase his distance from home. Every summer would be an American History Lesson for the family. As a private pilot, he logged over 8,000 hours over the U.S., Central, and South America as well as Australia. There were friends made around the world that enriched his life and that led to 58 years of Don's Christmas Books. He wanted to share his experiences with everyone.
Don & Margaret enjoyed cold Wisconsin winters in Tucson, Arizona for over 20 years. His grandchildren were his proudest accomplishment. His love for Andrew and Amanda was felt by all who knew him. He loved to take them hunting on "The Golden Ranch", dig worms from the garden and fish in the lake, fly them around the country, or climb Friendship Mound and sit on Chimney Rock eating donuts. It was during these special times that he would reminisce about his childhood and shared his knowledge teaching life lessons and encouraging them to dream big.
Memorial services for both Donald & Margaret will be 11:00 a.m. on Friday, October 20, 2017, at Roseberry's Funeral Home in Friendship.   Rev. John K. Stake will officiate.  Interment with military honors will be at the Mt. Repose Cemetery in Friendship.  Visitation will be 4:00 p.m. until 6:00 p.m. on Thursday at Roseberry's Funeral Home and again on Friday from 10:00 a.m. until the time of service. A full obituary for Margaret will follow at a later date.