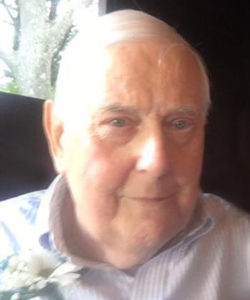 Donald E. Krahn, age 81, of the town of Big Flats, Wisconsin died Tuesday, June 14, 2016 at his home.
Memorial services will be 11:30 a.m. on Thursday, June 30, 2016 at the Good Shepherd Lutheran Church in Wisconsin Rapids, Wisconsin.   Pastor Paul Tullberg will officiate. Visitation will be 10:00 a.m. until the time of service on Thursday at the church.
Donald was born April 29, 1935 in Beaver Dam, Wisconsin to Erwin H. and Gertrude D.(Rupnow) Krahn.
Donald attended grade school in the town of Oak Grove and graduated from Juneau High School as Valedictorian of his class.  He received his Bachelor's Degree from Carroll College and took post graduate classes at UW- Whitewater, UW-Milwaukee, UW-Stout, U of Cal at Berkley, SIU at Carbondale, FSU- Canal Zone Branch.
Donald married Geneva R. Werner on October 19, 1957 in Juneau, Wisconsin.
Donald was drafted into the United States Army in 1957 and was stationed in the Panama Canal working in the medical corps until 1959 on active duty.   He then served in the Army Reserves and was honorably discharged in November of 1963.
From 1961 until 1968 Donald was a biology teacher at Ft. Atkinson High School.  In 1968 he started his career at WEAC where he worked as Field Consultant from 1968-69, Director of Field Services from 1969-73, Director of Legal Services from 1973-97, and as Executive Director from 1997 until his retirement in 1999.
Donald enjoyed deer hunting, working on his tree farm, playing cards, and photography. He also enjoyed attending his grandchildren's sports and other school activities.
Donald was a member of the Good Shepherd Lutheran Church where he was a former member of the church council and chair of the education committee.  He was also a member of the WWOA, Central Sands Chapter of WWOA, the NCWRPC where he was appointed by Gov. Doyle, and the Adams County Master Gardeners
Donald was preceded in death by his parents, Erwin & Gertrude (Rupnow) Krahn; Parents-in-law, Walter & Elsie (Schmidt) Werner; Sister-in-law, Delores (Werner) Arndorfer Jaehnke; Brothers-in-law, Paul Arndorfer & Roland Heuer.
Survivors:
Wife:  Geneva Krahn
Daughter:  Cheryl (James) Ross
Grandchildren:  John, Cassandra, Nicholas & Kristofer Ross
Daughter:  Wendy (Ken) Goerke
Grandson:  Walter (Haley) Tuttle
Son:  James (Joy) Krahn
Grandchildren:  Jesse & Jasmine Krahn
Honorary Grandson: Kenny Sedevic
Great-Granddaughter:  Raven Ross
Sister:  Beverly (Howard) Gibson
Sister:  Marjorie Heuer
Sister:  Marlene (Albert) Schoenwetter
Further survived by numerous nieces, nephews, other relatives and friends