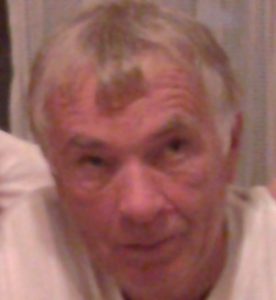 David Allen Johns, 70, of Adams passed away June 10, 2018, at Aspirus Riverview Hospital, with his family at his side & holding his hands after battling cancer for several years. No one fought harder and he never gave up no matter how many times he got knocked down. Dave was born on March 15, 1948, in St. Joseph, Michigan to Robert and Norma. He relocated with his own family to Wis Dells in the early 80s.  Dave was self-employed in his own construction business for many years until he left to return to Michigan to take care of his ailing brother. After his brother's passing, he returned to WI to live with Marcy & Tyler, so he could be back with his family. Dave loved being with his family and always looked forward to when Amber, Tim & Natalie came to visit.  Dave worked at Jim's Corner Bar, where he was instrumental in getting the kitchen up & running. He loved working there, where he met so many great people and made so many lasting friendships, which he truly cherished.  People especially loved coming in the days he and Greg Sorenson worked together, as the two of them provided countless of hours of laughter & fun between their banter back & forth, and the jokes they would play on each other. He was forced to stop working there when his health issues worsened. Dave had an especially close bond with his grandson, Tyler, who is going to be lost without him. Anyone who knew Dave, knew Tyler, as they were attached at the hip and anywhere Grandpa went, Tyler was right there at his side. Dave enjoyed being outside, birdwatching, doing crosswords, jigsaw puzzles, talking to his friends, watching the Badgers, Brewers & Packers, his daily phone calls with Amber, and all the time spent with Marcy. He touched the lives and hearts of countless people and will be sorely missed.
He is survived by his daughter, Marcy, and grandson, Tyler; daughter, Amber, son-in-law, Tim, and granddaughter, Natalie; and another granddaughter, Kayla & her family, his best friends Jim Premo, Greg Sorenson & Brian Peterson.  He is further survived by Mark Johns.
He was preceded in death by his parents and brothers, Dale and Dennis.
The family would like to extend a heartfelt thanks to Jim, Greg & Brian, for all the love and help they provided over the years; and to excellent care & kindness of all the staff at Aspirus Cancer Care Center.
A visitation was held from 5-7pm on Friday, June 15, 2018, at Roseberry's Funeral Home, with a service following at 7pm. A gathering was held at Corner Bar following the service. In lieu of flowers, memorials to the family would be appreciated.