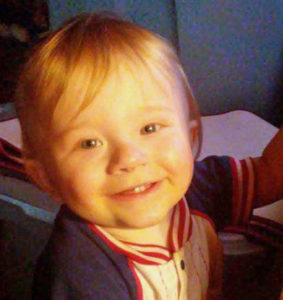 Carson Lee Casteel "Spider Monkey", age 15 months, of New Lisbon, Wisconsin passed away Monday, February 6, 2017 at St. Joseph's Hospital in Marshfield, Wisconsin.
Memorial services will be 3:00 p.m. on Sunday, February 19, 2017 at Roseberry's Funeral Home in Friendship, Wisconsin. Pastor Oatsvall will officiate. Visitation will be 1:00 until the time of service on Sunday at Roseberry's Funeral Home.
Carson was born October 17, 2015 in Marshfield, Wisconsin to Amanda Casteel-Hudler and James Georgeson.
Carson enjoyed playing with his Mickey Mouse toys and watching Mickey Mouse Clubhouse. He loved to dance. Carson had fun going to the park with his aunts Dakota & Sierra. He also enjoyed playing cars with Bobby and having a splash at the water-park with Jason. Carson liked to spend family time with his father, James and the Georgeson family.
Survivors:
Mother: Amanda Casteel-Hudler of New Lisbon, Wisconsin
Father: James Georgeson of Wisconsin Rapids, Wisconsin
Grandmother: Elizabeth DeGeorge of New Lisbon, Wisconsin
Brother: Jason of Grand Marsh, Wisconsin
Sister: Amelia of Grand Marsh, Wisconsin
Brother: Charles of Mauston, Wisconsin
Brother: Dawson of Mauston, Wisconsin
Brother: Robert of Baraboo, Wisconsin
Brother: Sebastian of Baraboo, Wisconsin
Sister: Rileyann of Baraboo, Wisconsin
further survived by: grandparents, step-parents, aunts, uncles, and cousins