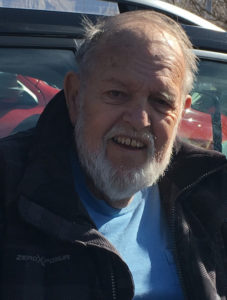 Arthur "Lee" Keach, Jr, age 80, of Grand Junction, Colorado, formerly of Williams Bay and Janesville, Wisconsin passed away peacefully on Sunday, 26 August 2018 from renal failure caused by diabetes.
Memorial Services will be at 11:00 a.m. on Saturday, 22 September 2018 at Roseberry's Funeral Home, 512 Main Street in Friendship, Wisconsin 53934. Interment at Mt. Repose Cemetery with Military Honors. Visitation at 10:30 a.m. until the time of service on Saturday.
Lee was born 9 October 1937 in Oxford, Wisconsin to Arthur and Hildegard ("Jimmie") Keach. He graduated from Adams-Friendship High School in 1955. He served in the Air Force and Coast Guard following graduation.
Lee married Ruth Sherwood from Tomah, Wisconsin on 26 November 1956 and was blessed with three children, Cheryl, Randy, and Rebecca. He married Vicki Austin on 4 Nov 1967, who were blessed with a son, James. Lee and Vicki recently celebrated their golden anniversary in November 2017.
Lee enjoyed fishing in the lakes atop the Grand Mesa and besting the gaming casinos. He remained an avid follower of Wisconsin Badger and Green Bay Packers football and a connoisseur of Wisconsin cheese, which he would frequently have specially delivered. He loved to make people laugh and never missed an opportunity to share a joke.
Lee was preceded in death by his parents, Ruth (spouse), and his sister, Jean Strack. He is survived by:
Wife: Vicki Keach of Grand Junction, Colorado
Daughter: Cheryl (Kenneth) Fosdal of Brantwood, Wisconsin
Son: Randy (Sally) Keach of Cheyenne, Wyoming
Daughter: Rebecca (David) DeWar of Milton, Wisconsin
Son: James (Jenifer) Keach of Sun Prairie, Wisconsin
Eight grandchildren
Eleven great-grandchildren