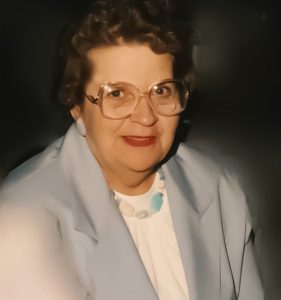 Alice J. Bogseth, age 84, of Adams, Wisconsin passed away Monday, January 8, 2018, at Riverview Hospital in Wisconsin Rapids, Wisconsin.
Memorial services will be Saturday, June 2, 2018, at 11:00 a.m. at Arkdale Trinity Lutheran Church in Arkdale, Wisconsin. Burial following at Mount Repose, Friendship, Wisconsin.
Alice was born August 16, 1933, in Chicago, Illinois to Walter and Marie (Piast) Jacobsen.
She graduated from Austin High in Chicago.
Alice married Harold J. Bogseth on August 16, 1952, in Chicago, Illinois. In 1971, they moved to Cottonville. Harold preceded Alice in death in 1981. She later moved to Mesa, Arizona and in 2006, she moved back to Wisconsin.
Alice worked as a CNA at Elmhurst Memorial Hospital (Elmhurst, Illinois), Central Dupage Hospital (Winfield, Illinois) and Moundview Memorial Hospital in Friendship. While living in Arizona she provided at home health care and was a cashier at Wal-Mart.
She loved cooking, baking, crocheting, telling stories and spending time with her friends and her family.
Alice was preceded in death by her parents, Walter & Marie Jacobsen; husband, Harold Bogseth; son-in-law, Merlin Winchester; daughters-in-law, Kim & Sherri Bogseth, sister, Ella (Marvin) Bogseth; brothers, Robert Jacobsen & Richard Jacobsen and infant sister, Marie Jacobsen.
Survivors:
Daughter: Sue (Les) Roeder of Watertown, Wisconsin
Daughter: Marie (Jim) Fitzsimmons of Mesa, Arizona
Son: Roy (Judy Alderman) Bogseth of Arkdale, Wisconsin
Son: Wally (Paty Nelson) Bogseth of Greenwood, Wisconsin
Son: Robert Bogseth of Adams, Wisconsin
Grandson: Tyler Bogseth of Adams, Wisconsin
Granddaughter: Taylor Bogseth of Adams, Wisconsin
Grandson: Michael (Susan) Fitzsimmons of Las Vegas, Nevada
Granddaughter: Katie Fitzsimmons of Mesa, Arizona
Granddaughter: Jenny (Andy) Logan of Phoenix, Arizona
Granddaughter: Jacci Bogseth of Friendship, Wisconsin
Granddaughter: Wendy (Anthony) Scarpinato of Virginia
Granddaughter: Heather (Cedric) David of Pennsylvania
Granddaughter: Tonia Bogseth of Washington
Granddaughter: Andrea Bogseth of Arkdale, Wisconsin
Granddaughter: Aron (Larry) Jones of Arkdale, Wisconsin
Grandson: Dustin Bogseth of Stanley, Wisconsin
Grandson: Dylan Bogseth of Greenwood, Wisconsin
Granddaughter: Brooklynne Bogseth of Greenwood, Wisconsin
9 great-grandchildren
Brother: Walter (Linda) Jacobsen of Colgate, Wisconsin
Sister: Merle (Roger) Kemps of Illinois
Sister: Margaret Campbell of Alabama
Further survived by many nieces and nephews