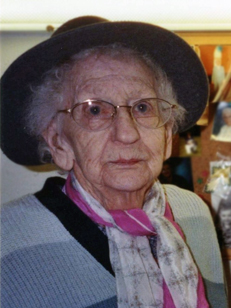 Pearl V. Bradley, age 90, of Friendship, Wisconsin died Sunday, August 3, 2008 at the Villa Pines Living Center in Friendship, Wisconsin.
Funeral services will be 4:00 p.m. on Monday, August 4, 2008 at the Roseberry's Funeral Home in Friendship, Wisconsin. Rev. Andrew Eytzen will officiate. Cremation will follow the traditional service. Visitation will be at Roseberry's Funeral Home on Monday from 2 p.m. until the time of service.  
Pearl was born December 8, 1917 in Monmouth, Illinois to Wayne and Irene (Collins) Heryford. She grew up with her family in Chicago, IL. Pearl worked at Deluxe Craft in Chicago as a book binder. She married Archie Glenn Bradley on December 24, 1954 in Chicago, Illinois. The couple moved to Adams, WI following their retirement.
Pearl enjoyed reading her Bible, going to church, wearing hats, and spending time with her family and friends.
Pearl was a member of the Assembly of God in Adams.
Pearl was preceded in death by her parents; husband, Archie G. Bradley; son, Jerome M. Peters; brother, Alfred Steinke; and sister, Grace Brown.
Those left to mourn include:
Daughter
Geanine (Sharol) Akers of Carpentersville, IL
Grandchildren
Deborah Akers of Bell Buckle, TN
Linda (James) Prim of Bell Buckle, TN
James Semro of Streamwood, IL
Steven Semro of Pingree Grove, IL
Kurt (Tara) Peters of Carol Stream, IL
Jamie Peters of Pingree Grove, IL
Daughter-in-law
Barbara Peters of Pingree Grove, IL
Sister-in-law
Virginia Steinke of Chicago, IL
Great-Grandchildren
Craig, Jeremiah, Connor, Jacquelin, Jake, Kyle, Madelyn, Brandon, and Cameron
Roseberry's Funeral Home is assisting the family. Visit www.roseberrys.com for online condolences and further information.