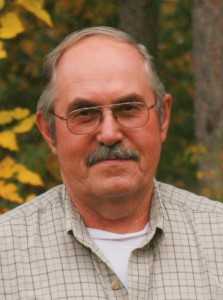 William Lew Jax, age 65, of Germantown Township, Juneau County, Wisconsin died Friday, July 27, 2012 at his home surrounded by his loving family.
Memorial service will be at 4:00 p.m. on Saturday, August 4th 2012 at the Township Hall in Germantown. Pastor Blake Overlien and and Guest Dale Hackbarth will officiate . Friends and Relatives may visit at the Townhall on Saturday from 2-4 p.m.   Luncheon to follow at 4:30 p.m.  The Germantown Township Hall is located at N7560 17 Ave, New Lisbon, WI 53950. A donation box will be available.
Bill was born October 14, 1946 in Janesville, Wisconsin to Raymond Jax and Helen Piekarski.  He graduated from Wisconsin Dells High School in 1965. Bill enlisted in the Navy, serving from 1965 to 1969, and was a veteran of Vietnam War. He married Anna M. Kotek on October 15, 1968 in Portage, Wisconsin.  Bill worked for the Wisconsin Dells Police Dept. 1970 to 1982, and then as Police Chief of Plain, Wisconsin from 1982 to 2000.
Bill served as the Chairman for Germantown Township in Juneau County from 2007 until the present.
Bill enjoyed hunting, fishing, any outdoor activities, and spending time with his family.
Bill was a member of the American Legion Plain, WI and in New Lisbon.
In lieu of flowers, memorial may be directed in Bill's memory to the Pancreatic Cancer Foundation, Mayo Clinic, or UW Madison.
Bill was preceded in death by his parents.
Survivors:
Wife:  Anna Jax of New Lisbon, Wisconsin
Son:  Michael Jax of Necedah, Wisconsin
Daughter:  Heidi (Daniel) Waldner of De Forest, Wisconsin
Son:  Timothy (Stacy) Jax of Baraboo, Wisconsin
Grandchild:  Jesse Overstreet of De Forest, Wisconsin
Grandchild:  Jason Waldner of De Forest, Wisconsin
Grandchild:  Steven Waldner of De Forest, Wisconsin
Grandchild:  Taylor Jax of Necedah, Wisconsin
Grandchild:  Jacob Jax of Necedah, Wisconsin
Grandchild:  Noah Jax of Necedah, Wisconsin
Grandchild:  Alexa Witters of Baraboo, Wisconsin
Grandchild:  Elliott Witters of Baraboo, Wisconsin
Grandchild:  Tory Jax of Baraboo, Wisconsin
Stepfather:    Gerald Piekarski
Brother:       Jim (Carol) Jax, and children
Half-Brother:  Jerry (Sue) Piekarski, and children
Half-brother and Half-sisters: Karen, Pete, Steve, Richard, Jackie, Mary, and Terry