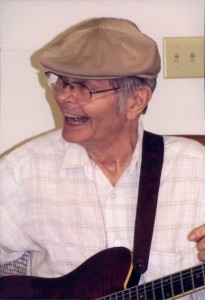 Vernon Kermit Hammond, 78 passed away Sunday, Dec. 2, 2012 at Moundview Memorial Hospital, Friendship, Wisconsin.
Funeral services will be 12 Noon on Thursday, December 6th, 2012 at Roseberry's Funeral Home in Friendship, Wisconsin.  Rev. John K. Stake will officiate.  Interment will be at White Creek Cemetery.
Friends may call at Roseberry's on Thursday from 10:00 a.m. until the time of service.
Vernon was born March 26, 1934 in the township of Quincy, Adams County to Kermit "Casey" and Alma (Reuterskiold) Hammond. In 1952 Vernon graduated from Adams-Friendship High School.  He served in the Army division of the Navy from 1953-1955.  Where he operated tug boats at an Air-Force base in Newfoundland.  While serving in the army he found his passion for playing the guitar and taught himself to play.  After leaving the service he returned home to work with his father on their family owned saw mill.  Later working for Arkansas Traveler Boat Factory, Carpenters Pureoil Station and then driving bus for Badger Army Ammunition Plant. In 1972 Vernon started working for Castle Rock Container Corporation where he continued to work until he was forced to retire in 1997 due to illness.
On August 27, 1960 he was united in marriage to Lilah K. Gast at the Trinity Lutheran Church in Adams.  To this union they were blessed with two daughters, Stacey and Paula, and one son Thad.  Vernon and Lilah raised their family in Adams where he continued to reside until his time of death.
All who knew Vernon are well aware of his passion for country music and how dedicated he was to his band the Loners.  Along with his music he enjoyed golf, fishing, boating, snowmobiling, NASCAR, camping and traveling in the R.V.  Vern also liked tinkering with cars and small engines.  He was an avid Packer fan and a story teller.  Vern loved people and spending time with his children, grandchildren, and great grandchildren.
Vern was a member of Central Wisconsin Country Music Association, Mid-West Wisconsin Country Music Jamboree, Sand County Campers, Moundview Snowmobile Club, Moundview Golf Club, and served as an Alderman for the city of Adams for several years.
Vernon was preceded in death by his parents, his sister Kay Theisen, his brother Kenneth Hammond, sister-in-law Georgiana Hammond, Brother-in-law Kurt Ehlert, and nephew Tristan Stemper.
He is survived by: Wife Lilah, daughters Stacey Hamman, Paula (Len) Hamman, son Thad(Connie) Hammond.  Grandchildren Amber Hamman, Travis Hamman, Sarah (Seth) Hamland, Logan Hamman, & Seth Hamman. Great Grandchildren: Angus, Paxton, and Aubrey.  Son-in-law Tracy Hamman. Step-grandchildren Holly, Michelle, Jordan, & Ashlyn.  Step great grandchildren: Elyssa, Nevaeh, and Leina.
Surviving siblings are: Wilfred Hammond, Myrna (Ronald) Klaus, Douglas (Jean) Hammond, and Linda (Larry) Stemper. Sister-in-law Mary Schmidt.  Numerous Nieces and Nephews.