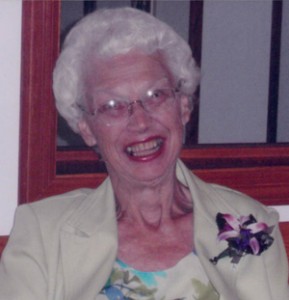 Velma L. Dittburner, age 88, of Hazelhurst, Wisconsin passed away peacefully after a brief illness on October 11, 2012 at the Seasons of Life Hospice Home in Woodruff, Wisconsin.
Funeral services will be 2:00 p.m. on Sunday, October 14, 2012 at Roseberry's Funeral Home in Friendship, Wisconsin. Rev. John K. Stake will officiate. Interment will be at the Quincy Cemetery, Town of Quincy, Adams County,Wisconsin. Visitation will be 1:00 p.m. until the time of service on Sunday at Roseberry's Funeral Home.
Velma was born March 28, 1924 in Lohrville, Iowa the daughter of Marion and Edna (Reed) Fehrenbacher. She was raised in Iowa and Southern Illinois. She moved to Chicago following her High School Graduation and started nurses training at Northwestern University. She left Northwestern during WWII to become a Map Maker for the United States Army Air Corps.
She met and married Glenn Charles Dittburner on June 22, 1946 in Chicago, Illinois. He preceded her in death on November 11, 1992. Velma took great joy in her family and acquired many "adopted" children throughout the years as she was easy to love and loved to cook for all. She recently adopted an old cat "Smoosh" and enjoyed his company. She will be greatly missed by her family and many many friends.
In lieu of flowers, memorials may be directed to the Seasons of Life Hospice Home, PO Box 770, Woodruff, WI 54568-0770 and performing random acts of kindness in Velma's memory.
Velma was preceded in death by her husband, Glenn Dittburner and her parents, Marion & Edna Fehrenbacher.
Survivors:
Daughter: Linda (Lawrence) Engen of Hazelhurst, Wisconsin
Son: John (Linda) Dittburner of Oshkosh, Wisconsin
Daughter: Margaret (Mark) Rutenbeck of Bloomington, Illinois
Granddaughter: Shannon Engen of Hazelhurst, Wisconsin
Grandson: Andrew (Stephanie) Dittburner of Neenah, Wisconsin
Grandson: Eric Engen of Rhinelander, Wisconsin
Grandson: Matthew (Marla) Dittburner of Holland, Wisconsin
Granddaughter: Heidi Engen of Marshfield, Wisconsin
two cats:  Smoosh & Drools
further survived by two sisters-in-law, nieces, nephews, "adopted children" and friends