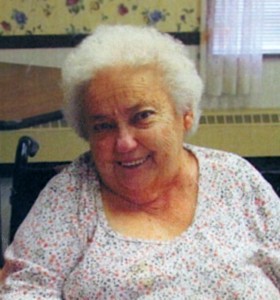 Theresa Margaret Tucki, age 82, of New Lisbon, Wisconsin passed away Sunday, September 9, 2012 at the Heritage Manor in Elroy, Wisconsin.
Memorial services will be 11:30 a.m. on Wednesday, September 12th, 2012 at the St. Patrick's Catholic Church in Mauston, Wisconsin.    Father G. Valentine Joseph will officiate.  Interment will be at the St. Joseph Catholic Cemetery, Chicago, Illinois at a later date.
Theresa was born February 23, 1930 in Chicago, Illinois to Joseph and Anna Maurer . She married Carol Tucki on April 16, 1949 in Chicago, Illinois and were blessed with over 60 years together. Together they raised 19 foster children and three of their own children.  Theresa and Carol moved to New Lisbon in 1993 to be closer to Carol's family.
Theresa enjoyed playing bingo, cooking, crossword puzzles, reading, and spending time with her family.
Theresa was preceded in death by her parents, Joseph and Anna Maurer; husband, Carol W. Tucki; and son, Anthony Nykvist.
Survivors:
Daughter:  Christine (Michael Leu) Neal of New Lisbon, Wisconsin
Son:  Steve Tucki of New Lisbon, Wisconsin
Grandchild:  Roxann Tucki of Mauston, Wisconsin
Grandchild:  Nicole (Shawn Williams) Neal of Mauston, Wisconsin
Grandchild:  Stephanie Neal of Mauston, Wisconsin
Grandchild:  Morgan Tucki of Chicago, Illinois
GreatGrandchild:  Victoria Tucki of Mauston, Wisconsin
GreatGrandchild:  Jason Tucki of Mauston, Wisconsin
GreatGrandchild:  Autumn Tucki of Tomah, Wisconsin
GreatGrandchild:  Marissa Tucki of Tomah, Wisconsin
GreatGrandchild:  Ethan Neal-Davey of Mauston, Wisconsin
GreatGrandchild:  Matthew Branton of New Lisbon, Wisconsin
GreatGrandchild:  Jasmyn Allen of Lyndon Station, Wisconsin
GreatGrandchild:  Persyes Schultz of Fond du Lac, Wisconsin
Sister:  Barbara (Tony) Caruso of, Michigan
Sister:  Pat (Louis) Caruso of Indiana
Sister:  Beverly (Mike) Martin of Indiana
Brother:  Lawrence Maurer of Alabama
Close Friends: Robert and Brenda Thorne of Mauston, Wisconsin and Jesse and Cathy Castro of Necedah, Wisconsin