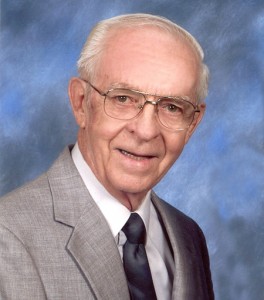 Ronald F. Larson Sr., age 83, of Friendship, Wisconsin died Friday, November 16, 2012 at the Wisconsin Veterans Home in King, Wisconsin.
Memorial services will be 11:00 a.m. on Saturday, December 1, 2012 at the United in Christ Lutheran Church in Dellwood, Wisconsin.   Rev. T. Christian Nelson will officiate.  Visitation will be 10 a.m. until the time of service on Saturday at United in Christ Lutheran Church.  Military honors will be given by the Adams County Honor Guard.
Interment will be at the Quincy Cemetery, Town of Quincy, Adams County, Wisconsin at a later date.
Ronald was born October 26, 1929 in Rockford, Illinois to Ruben Frank and Elna M. (Carlson) Larson.   He served in the Army during the Korean War.  Ronald married Ellen Ann Stieg on November 27, 1953 in Rockford, Illinois.
He was part owner of Main Automotive Supply and By Pass Automotive Supply both of Rockford, IL.  He and Ellen then moved to their retirement home in Quincy Township following his retirement in 1991.  Ronald worked as a railroad transporter and later at Car-Quest during his time here in Adams County.
Ronald was very active with the boy's baseball program in Rockford, from coaching, sponsoring, and was on the board of directors of the Roy Gayle Baseball League.
Ronald enjoyed fishing, hunting, snowmobiling, and bowling.  He was a member of Automotive Wholesalers of Illinois, V.F.W., American Legion, and Moose Club.
Memorials may be given to the American Cancer Society or the Alzheimer's Foundation.
Ronald was preceded in death by his parents, Ruben and Elna Larson; sister, Donna Lee Olson-Klint; brother, Gerald Roger Larson; and grandson, PFC Ryan Jeffrey Larson.
Survivors:
Wife:  Ellen Larson of Friendship, Wisconsin
Son:  Ronald Frank (Shelley) Larson Jr. of Rockford, Illinois
Son:  Russell Alan Larson of Rockford, Illinois
Son:  Ritchie John Larson of Friendship, Wisconsin
Daughter:  RaeAnn Ellen Larson of Friendship, Wisconsin
Granddaughter:  Rebecca Ann Larson of Rockford, Illinois
Further survived by several nieces, nephews, other relatives, and friends.
Roseberry's Funeral Home is assisting the family.  Visit www.roseberrys.com for online condolences and further information.