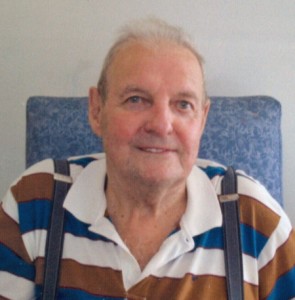 Rolland  Hess, age 86, of Adams, Wisconsin died Friday, January 11, 2013 at the Villa Pines Living Center in Friendship, Wisconsin.
Memorials services are planned for a later date this summer.
Rolland was born February 18, 1926 in Viola, Wisconsin to Valentine and Jessie (Croniger) Hess. He served in the US Navy during WWII in the European Theater of war.  Rolland participated in the Normandy invasion on D-Day as a pilot of a LST landing craft.  He married Margaret Scott on August 8, 1945 in Massillon, Ohio.  They returned to Wisconsin and he started his career in the corrugated box business in Tomahawk, Wisconsin and was involved in managing plants in Wisconsin, Michigan, and Colorado.  Rolland was instrumental in the start up and management of Lewis Container later known as Castle Rock Container in Adams.  He later retired from Midwest Rubber and Sales in Stoughton, Wisconsin as general manager.
Rolland enjoyed golfing, fishing, and hunting, especially deer hunting at his cabin in Tomahawk, Wisconsin. In the Adams area he was especially known for his rummage sales at his house across from the ballpark.
Rolland was a member of VFW Post in Colby, Wisconsin; he was also a member of the Somo River Retreat Lodge in Tomahawk, Wisconsin, with his friends, sons, and grandson.
Memorials may be directed to the Angel Flight and the Wounded Warriors.
Rolland was preceded in death by his parents, Valentine and Jessie (Croniger) Hess; sisters:  Jessie, Arlie, and Ellen; and brothers:  Valentine, Arvin, and Denny.
Survivors:
Wife:  Margaret Hess of Adams, Wisconsin
Daughter:  Margaret (Victor) Biechler of Appleton, Wisconsin
Son:  Thomas Hess of Eagle River, Wisconsin
Son:  Terry (Christine) Hess of Necedah, Wisconsin
Son:  Gary (Kim) Hess of Green Bay, Wisconsin
Grandchildren:  Jennifer, Michael, Stacy, Shelley, Melissa, Kelsey, Matthew, Connor, Logan
Great-Grandchildren:  Damian, Dane, Dylan, Brandon, Kylee, Brandon, Haley, Addy
Further survived by nieces, nephews, other relatives, his little buddy Spike and friends.