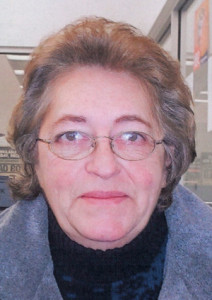 Roberta M. Dye, age 63, of Adams, Wisconsin passed away on June 22, 2013 at her home.
Graveside memorial services will be at the Pine Grove Cemetery on August 3, 2013 at 1:00 p.m.
Roberta was born June 30, 1949 the daughter of Katie Malak in Milwaukee, Wisconsin.
She married Leonard L. Dye Sr. on June 25, 1988 in Adams, Wisconsin.
Prior to her retirement Roberta worked at Pamida as head cashier for several years.
She loved spending time in the kitchen baking and spending time with her family and friends.
Roberta was preceded in death by her mother, Katherine Malak and Grandson, Christopher Lee Woyach
Survivors:
Husband: Leonard L. Dye Sr. of Adams, Wisconsin
Son: Kevin (Patti) Woyach of Green Bay, Wisconsin
Son: Ken (Kate) Woyach of Erlanger, Kentucky
Granddaughter: Samantha Mashak of Roseau, Minnesota
Granddaughter: Chelsea Mashak of Reedsburg, Wisconsin
Grandson: Jordan Woyach of LaCrosse, Wisconsin
Granddaughter: Melissa Woyach of Madison, Wisconsin
Great-Grandson: Billy Meeks of Roseau, Minnesota
Great-Grandson: Adrian Lee Mathis of Madison, Wisconsin
Step son: Leonard L. Dye Jr. of Adams, Wisconsin
Step daughter: Sherill Dye of Ohio
Step daughter: Naomi (John) Steinruck of Oconomowoc, Wisconsin
Step daughter: Dawn Walli and her children, Cassie, Sara & Jackie of Delavan, Wisconsin
Step grandson: Josh Dye of Ohio
Step grandson: Ivon (Keri) Steinruck of Oconomowoc, Wisconsin
Brother: Edmund "Butch" Malak of Oshkosh, Wisconsin
Step great grandson: Nolan Steinruck of Oconomowoc, Wisconsin