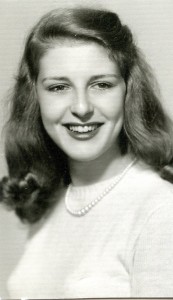 Patty Jeanne Pappas, age 82, of Grand Marsh, Wisconsin died Thursday, July 5, 2012 at her home from cancer.
Funeral services will be 3:00 p.m. on Saturday, July 14, 2012 at Roseberry's Funeral Home in Friendship, Wisconsin.   Chaplain Debbie Warthan will officiate.  Interment will be at the Easton Cemetery, Town of Easton, Adams County, Wisconsin.
Visitation will be at Roseberry's Funeral Home on Friday from 4 to 8 p.m. and again on Saturday from 2:00 p.m. until the time of service.
Patty was born March 28, 1930 in Des Moines, Iowa to John and Marie Purviance.   She married Steve Pappas on May 7, 1953 in Chicago, Illinois.  The couple made their home in Chicago, IL before moving to Glendale Heights, IL in 1967.  Patty worked with children at her home.  She and Steve retired to Grand Marsh, WI in 1984.
Patty enjoyed working with kids, reading books, painting, writing, and spending time with her family and friends.
She was very friendly person and never knew a stranger.
Memorials may be directed to the Veteran Charity of your choice.
Patty was preceded in death by her parents, John and Marie Purviance; husband, Steve Pappas; grandson,  Christopher Brown; sister,  Marie Lynn Purviance; sister, Mary Lou Purviance; brother, William John Purviance; and an infant brother.
Survivors:
Daughter:  Junie Brown of Friendship, Wisconsin
Daughter:  Rosie Korines of Winfield, Illinois
Son:  Jim Pappas of Glen Ellyn, Illinois
Grandchild:  Stephanie Brown of Friendship, Wisconsin
Grandchild:  James Korines of Winfield, Illinois
Sister:  Virginia Lohmeyer of LA
Brother:  Don Purviance of TX
Brother:  Keith Ray Purviance
Further survived by many nieces, one nephew, other relatives, and friends.
Roseberry's Funeral Home is assisting the family.  Visit www.roseberrys.com for online condolences and further information.