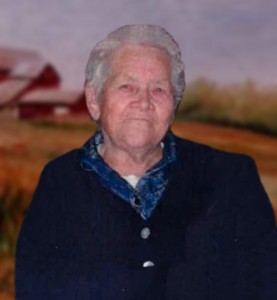 Olga O. Nenja, age 96, of Friendship, Wisconsin passed away peacefully in the presence of her son, Dmytro Sunday, September 9, 2012 at the Moundview Memorial Hospital & Clinics in Friendship, Wisconsin.
Funeral services will be 1:00 p.m. on Sunday, September 16, 2012 at the Roseberry's Funeral Home in Friendship, Wisconsin. Pastor Sam Downey will officiate. Interment will be at the Pine Grove Cemetery, Town of Lincoln, Adams County, Wisconsin.
Visitation will be 12 Noon until the time of service on Sunday at Roseberry's Funeral Home.
Olga was born December 17, 1915 in Potopsi, Ukraine to Onekey and Eugenia Kudelia. She married Hryhory Nenja in Germany after WWII and they immigrated with their son Leonard to the United States in 1950. They lived in Kentucky until the spring of 1951 when they moved to Chicago, IL. In 1955, they bought a dairy farm in the Town of Lincoln, by Grand Marsh, WI and in 1956 they moved to the farm and continued to dairy until Hryhory passed away in 1972. Olga maintained the farm until her son, Dmytro took over the farming operations.  Olga lived at her home in Grand Marsh until 2 years ago when she moved to Villa Pines Living Center in Friendship.
Olga enjoyed gardening, cross-stitching, cooking, baking and tending to her flowers.
Memorials may be directed to the Easton Lions.
Olga was preceded in death by parents, Onekey and Eugenia Kudelia; husband, Hryhory Nenja; and many brothers and sisters.
Survivors:
Son: Dmytro Nenja of Grand Marsh, Wisconsin
Son: Leonard (Leslie) Nenia of Shabbona, Illinois
Grandchild: Gregory Nenia of Shabbona, Illinois
Grandchild: Marc (Kendra) Nenia of Cortland, Illinois
Grandchild: Elise Nenia of Shabbona, Illinois
Great-Grandchild: Margaret Nenia of Cortland, Illinois
Great-Grandchild: John Nenia of Cortland, Illinois