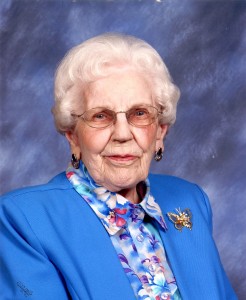 Ida M. Ashworth, age 93, of Adams, Wisconsin died Monday, July 30th, 2012 at Liberty Manor unexpectedly.
Ida was born on January 31, 1919 in Dellwood, Adams County, Wisconsin, the daughter of John and Rachel (Johnson) Stormoen. She married Harold Ashworth on April 9, 1937. Ida was a member of the Friendship Congregational Church, the church Ladies Aid, OES Quincy Chapter No. 177, and Moundview Memorial Hospital Auxiliary for over fifty years. She was employed summers at the Moccasin Shop in Wisconsin Dells and also at the Moundview Hospital before her retirement.
Ida was known to everyone as "Grandma Ida" and loved by all who knew her. She took great pride in her family, especially her grandchildren and great-grandchildren, and their numerous accomplishments and would share their pictures with her many visitors to Liberty Manor.
Ida is survived by her son, Harold (Dorothy) Ashworth of Anaheim, California; daughter, Carole Cleary of Portage, Wisconsin; daughter,  Patty (Dennis) Jameson of Baraboo, Wisconsin; brother, Jim (Lillian) Stormoen of Adams, Wisconsin; brother, John (Audrey) Stormoen of Dellwood, Wisconsin; sister, Lucille Graham of Arkdale, Wisconsin;
brother-in-law, Ray Jepson of Anaheim, California.  She is further survived by six grandchildren: Patty (Kurt) Eley of Waunakee, Peggy Maurer of Portage, Jill (Steve) Showalter of Germantown, Jana (Michael) Ketelsleger of Hermosa Beach, CA; Eric (Shar) Ashworth of Snowflake, AZ; Kevin (Sara) Ashworth of Tustin, CA; ten great-grandchildren:  Chelsey and A.J. Eley, Zak and Jake Showalter,  Megan Ketelsleger, Joey and Zoe Maurer, Nicholas, Kyle, and Brady Ashworth.  Extended Family of Step-Grandchildren:  Craig Comstock of Tecumseh, OK; Barbara (John) Gugel of Casselberry, FL; and their families, nieces, nephews, and many friends.
She was preceded in death by her beloved husband, Harold; step-daughter and son-in-law, Dorothy and Don Comstock; son-in-law, Joe Cleary; brothers: Norval, Joe and Gustave; sisters: Alice, Rogna, Olga, and Rachel.
Funeral services will be 11:00 a.m. on Friday, August 3, 2012 at the Roseberry's Funeral Home in Friendship, Wisconsin. Pastor Terri Skildum will officiate. Interment will follow at the Dellwood Cemetery.
Friends may call at Roseberry's on Friday from 10 a.m. until the time of service.
The family would like to express gratitude to Val, Debbie, and their caring staff at Liberty Manor for the many acts of kindness shown to our mother. A special thank you to Lucille Davis, a niece, for being such a great part of Mom's stay at Liberty Manor with her endless kindness.
In lieu of flowers, memorials can be made to the charity of one's choice.
"When someone you love becomes a memory, the memory becomes a treasure."