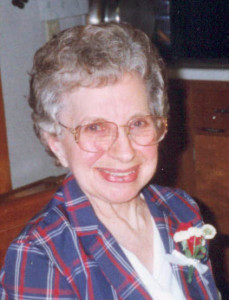 Geraldine H. Rehfeld, age 94, a long-time resident of Liberty Manor, Adams, Wisconsin died on March 3, 2013 at the Villa Pines Living Center in Friendship, Wisconsin. Funeral services will be 11:00 a.m. on Wednesday, March 6, 2013 at the Roseberry's Funeral Home in Friendship, Wisconsin.   Pastor Terri Skildum will officiate.  Interment will be at the Mt. Repose Cemetery in Friendship.
Geraldine was born  in Milwaukee, Wisconsin to Erwin J. and Emma Kopp.
She was a professional dancer in her youth and later worked for the City of Milwaukee Treasury Department. She married Herbert Rehfeld.  Following his retirement they moved to Adams County where she was employed by Adams County.  She was very active at the Adams Trinity Lutheran Church.
She was preceded in death by her husband, Herbert Rehfeld and her parents, Erwin & Emma Kopp.
Survivors:
Step-Son:  Roger (Joyce) Rehfeld of Guntersville, Alabama
Granddaughter:  Gwenn (Tom) Marchesano of Plymouth, Michigan
Grandson:  Ross (Sherry) Rehfeld of Huntsville, Alabama
Three great-grandchildren:  Claire, Abby and Anna