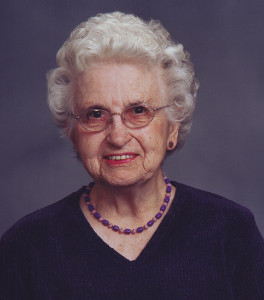 Eva Josephine Fagan Foster, age 91, of Friendship, Wisconsin died February 12, 2013 at the Moundview Memorial Hospital & Clinics in Friendship, Wisconsin. Funeral services will be 11:00a.m. on Saturday, February 16, 2013 at The Church of Jesus Christ of Latter-day Saints in Friendship, Wisconsin.   Bishop John Barrett will officiate.  Interment will be at the Hancock Cemetery, Hancock, Wisconsin.  Visitation will be 9:30 a.m. until the time of service on Saturday at the Church.
Eva was born December 25, 1921 in Madison, Wisconsin to Albert Murl and Josephine (Rogers) Fagan.
She graduated from Hancock High School in June of 1939.
Eva married Charles Gordon Foster on June 11, 1939 in Hancock, Wisconsin.  They farmed on shares in the Hancock area when first married.  They purchased a farm in the township of Dakota in Waushara County in 1943.  Eva & Charles moved to Wautoma in 1963 where they both worked at the Speed Queen factory.  They moved to Alexandria, Virginia in 1972 until 1981 when they served as full time missionaries in the San Diego, California Mission of The Church of Jesus Christ of Latter-day Saints for eighteen months.  They returned to Wautoma where they lived until 1985. They then purchased the Friendship Motor Court which they operated until they moved to Lake St. in Friendship when they retired.
Eva was a 4-H leader, loved to square dance, loved family history & genealogy, was an avid reader, traveler and cook.  She enjoyed fishing and hosting many family parties and gatherings.  Eva was an active member of the Evangelical United Brethren and United Methodist Churches in Wautoma.  More recently she was an active member of The Church of Jesus Christ of Latter-day Saints in Friendship, Wisconsin.  Eva served as the Adams-Friendship Ward Relief Society President, visiting teacher, and taught in several auxiliaries.
She was preceded in death by her husband, Charles Gordon Foster; parents, Albert & Josephine Fagan and six brothers & sisters
Survivors:
Son:  Fred (Sharon) Foster of Bluffton, South Carolina
Daughter:  Eloise Jarman of Palm Bay, Florida
Son:  Charles Foster III of Friendship, Wisconsin
Daughter:  Mary Lou Adams of Arkdale, Wisconsin
Son:  Arthur (Mary Jo) Foster of Portage, Wisconsin
21 grandchildren, 43 great-grandchildren and 2 great-great grandchildren
Sister:  Velma Kunz of Stoughton, Wisconsin
Her family would like to thank the Dr.'s and staff at Moundview Memorial Hospital for the professional, compassionate and kind service they rendered to Eva.