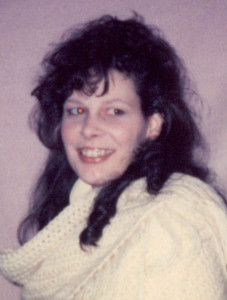 Donna Jean Peters-Braasch, age 51, of Easton, Wisconsin died October 28, 2013 at her residence in Easton, Wisconsin.
Donna was born January 15, 1962 in Los Angeles, California to Donavon Peters and Linda Medders.  She married Michael Braasch on March 14, 1994 in Jefferson, WI.
Funeral services will be 3:00 pm on Saturday, November 02, 2013 at the Roseberry's Funeral Home in Friendship, Wisconsin.   Chadlee P. Keil will officiate.  Visitation will be after 1pm on Saturday at Roseberry's Funeral Home.
She is survived by:  her husband -Mike Braasch of Grand Marsh, Wisconsin; two daughters –  Linda Thompson of Randolph, Wisconsin and Nicole Peters-Braasch of Grand Marsh, Wisconsin; her  mother – Linda Medders of Adams, Wisconsin; two granddaughters – Kylee Thompson and Caydence Thompson, both of Randolph, Wisconsin; her two brothers –  Donavon Jr Peters of Adams, Wisconsin and Douglas M (Stacey) Peters of Lake Mills, Wisconsin; one sister – Melinda (Chad Engel) Peters of Grand Marsh, Wisconsin; many nieces, nephews other relatives and friends.
She was preceded in death by:  her father – Donovan Peters Sr. and one sister – Katherine Thomas.