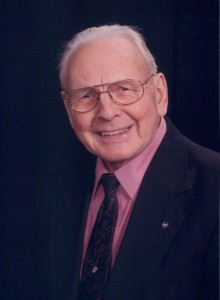 Chester O. "Chet" Waller, age 90, of Arkdale, Wisconsin died on January 28, 2013 at the Tomah VA Medical Center in Tomah, Wisconsin.
Funeral services will be 11:00 a.m. on Friday, February 1, 2013 at the Arkdale Trinity Lutheran Church in Arkdale, Wisconsin.   Pastor Terri Skildum will officiate.  Interment will be at the South Arkdale Cemetery. Military honors will be presented by the Adams County Honor Guard. Visitation will be 9:30 a.m. until the time of service on Friday at Arkdale Trinity Lutheran Church.
Chester was born June 11, 1922 in Arkdale, Wisconsin to Oscar and Clara (Rosgard) Waller.
He was drafted into the United States Army during WWII on December 21, 1942.  He was assigned to the 100th  Infantry Division, Seventh Army and served in France, and Germany.  He was in charge of 6 enlisted machine gunners in directing firing, in the maintenance and repair of heavy machine guns.  He controlled and coordinated machine gunners and the tactical employment of weapons.   He was awarded the American Theater Ribbon, European African Middle Eastern Theater Ribbon, Two overseas service bars and one service stripe. He also received the Victory Medal, Purple Heart Medal, Two Bronze Battle Stars and the Combat Infantry Badge for meritorious achievement.  He was honorably discharged on January 17, 1946.
Chet married Marguerite Barnes on November 8, 1947 at the Arkdale Trinity Lutheran Church.
He was employed with Oscar Mayer as a truck driver for 36 years retiring in 1983.
In October of 1988 Chet and Marge moved to Arkdale where they built their home.
He enjoyed fishing, traveling, and most of all deer hunting with all of his buddies.  Chet was a Jack of all trades and could fix most everything.
He was a charter member of the American Legion Post #501 in Madison, the VFW #6279 in Adams and the Military Order of the Purple Heart.  Chet was baptized, confirmed and married at the Arkdale Trinity Lutheran Church where he was a very active member.
He was preceded in death by his parents, Oscar and Clara Waller; brother, Harold Waller; infant sister, Dorothy;  sisters, Bertha Erste; Pearl Smedbron; Ada Fakes and Sada Ernst-Ritter; Sisters in law, Dorothy Stanley; Bernice Barnes; Inez Garlock and Betty Waller, brothers in law, Jesse Barnes; Roy Barnes; Tom Barnes; Art Erste; Glenn Ernst; Al Fakes; and Ivan Smedbron
Survivors:
Wife:  Marguerite Waller of Arkdale, Wisconsin
Brother:  Donald Waller of Arkdale, Wisconsin
Sister in law: Lillian (James) Stormoen of Adams, Wisconsin
Sister in law:  Lola (Fritz) Lord of Madison, Wisconsin
Many loving and caring nieces, nephews and friends