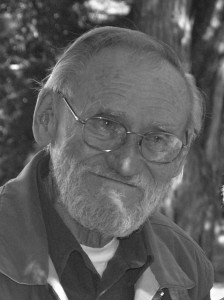 Carlton R. Euller was born in Buffalo, NY on February 9, 1924, and died on January 4, 2013, at home in Adams, Wisconsin. He is survived by his loving wife of 67 years, Ruth, his faithful canine companion, Jenny, and five children: Kurt and Sue Euller, Sparta, WI; Lynne and Steve Reich, Delafield, WI; Steven Euller and Nancy Roehr (Minneapolis, MN), Karen Euller (Lake Oswego, OR), and Evelyn Euller (Rochester, MN). Carl also had 13 grandchildren, 28 great grandchildren and 1 great great grandchild.
Carl was a World War II Veteran. He worked in the insurance industry in Buffalo, New York and the Milwaukee and Beloit Wisconsin areas until he retired in 1982 when he and Ruth moved to Adams. He was an avid outdoorsman, enjoyed trout fishing and hunting on his property, was an oil painter of portraits and Wisconsin's natural beauty, and was interested in a variety of gardening and other horticultural activities.
As Carl wished, a private family gathering will take place. No public service is planned. In lieu of flowers, the family would appreciate donations to the Adams County Public Library, where Carl was a past board member and loyal patron.