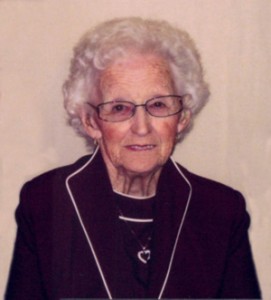 Alice Marie Roller, age 86, of Oxford, Wisconsin died Wednesday, October 17, 2012 at the Villa Pines Living Center in Friendship, Wisconsin surrounded by her loving family.
Memorial services will be 2:00 p.m. on Saturday, October 20, 2012 at the Roseberry's Funeral Home in Friendship, Wisconsin.   Pastor Sam Downey will officiate.  Visitation will be 1:00 p.m. until the time of service on Saturday at Roseberry's Funeral Home.
Interment will be at the Easton Cemetery at a later date.
Alice was born April 7, 1926 in Lincoln Township, Adams County, Wisconsin to Albert and Eva (Lish) Hollman.  They always had a home church wherever they lived – South Burr Oak Methodist Church where she was active in the youth group, the White Creek Congregational Church and Gardner, MT Community Church where they lived and worked many years.
She married Robert M. Roller on October 9, 1942 in Wisconsin Dells.  They farmed in Easton Township until 1971, when they moved to Gardner, MT until 1996 when they returned to Adams because of health issues.
Memorials may be directed to the White Creek Congregational Church.
Alice was preceded in death by her parents, Albert and Eva (Lish) Hollman; husband, Robert M. Roller; son-in-law, Gerald Cook; daughter-in-law, Patti Roller; and brothers:  Gaylord Hollman and Robert Hollman.
Survivors:
Daughter:  Eleanor (Robert) Bonnett of Oxford, Wisconsin
Daughter:  Dorthey Cook (Ken Smith) of Granton, Wisconsin
Son:  Duane Roller of Wisconsin Dells, Wisconsin
Son:  Victor Roller of Wisconsin Dells, Wisconsin
Grandchildren:
Deren (Jeanie) Cook
Jeff (Denise) Cook
Alisa (Chris) Eichhorn
Cory Bonnett
Aaron (Tania) Bonnett
Victor Wm. Roller
Derek Roller
Nicole (Florentino) Gonzalez
Kim Hebel
Sunny (Dean) Darling
Jessica Roller
Crystal Roller
Great-grandchild:  14
Great-Great-Grandchild:  1
Sister:  Carol Lyman of Roswell, New Mexico
Sister:  Esther Jeanne John of Longmont, Colorado
Further survived by nieces, nephews, other relatives, and friends.