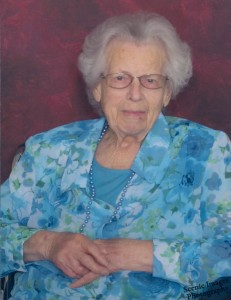 Wilma A. Henriksen, age 94, of Friendship, Wisconsin passed away on January 22, 2013 at the Villa Pines Living Center in Friendship, Wisconsin. Due to her request no services will be held.
Wilma was born February 15, 1918 in Mower County, Minnesota to Lincoln and Lula (Campbell) Strand.
Her family moved to Strongs Prairie where she grew up. She married Henry Henriksen on June 14, 1936 in Austin, Minnesota. They had one daughter, Donna and in 1938 they moved to Chicago, returning to Friendship in 1945.
Wilma was a member of the Arkdale Trinity Lutheran Church and the Cottonville Homemakers Club.  She was a volunteer at the Tomah VA Hospital.
Wilma was very proud of being a grandma, great-grandma and great-great grandma.
She enjoyed visiting friends at Villa Pines, crafts, embroidery and selling Avon.
She was preceded in death by her husband, Henry Henriksen; parents, Lincoln & Lula Strand; sister, Vernell Weber and sister, Dorothy Olsen
Survivors:
Daughter: Donna Pease of Delavan, Wisconsin
Grandson: Donald (Kimberly) Bottensek of Delavan, Wisconsin
Grandson: Daniel (Patti) Bottensek of Friendship, Wisconsin
Granddaughter: Deneen (Gary) Sumiejski of Delavan, Wisconsin
Grandson: David(Kristen) Pease of Delavan, Wisconsin
Five Great-grandchildren: Jennifer (Jeremy Armstrong), Daniel (Krista), Dustin (Nicole), Danielle and Degarya
Five Great-great grandchildren: Dominik, Natalie, Mason, Lillyann and Leeum
Sister: Verniece Wesely of Adams, Wisconsin
Sister: Willetta Tolley of Adams, Wisconsin
One step great-grandson: Jason (Kim)
One Step great-granddaughter: Sarah
Three Step great-great-grandchildren: Dominck, Bentley and Bella.
further survived by: several nieces & nephews