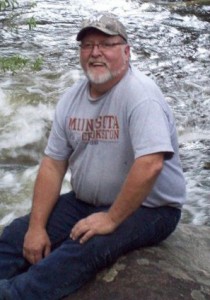 Louis A. Tolley, age 57, of Adams, Wisconsin passed away unexpectedly from an on-going illness on January 15, 2013 at St. Joseph's Hospital in Marshfield, Wisconsin. Funeral services will be 11:00 a.m. on Monday, January 21, 2013 at the Arkdale Trinity Lutheran Church in Arkdale, Wisconsin.  Rev. John K. Stake and Pastor Terri Skildum will officiate. Military Honors will presented by the Adams County Honor Guard.  Interment, following cremation will be at the East Arkdale Cemetery at a later date.  Visitation will be 5:00 p.m. until 8:00 p.m. with a Masonic Service at 7:30 p.m. on Sunday at Roseberry's Funeral Home. And again from 10:00 a.m. until the time of service at the church on Monday.
Louis was born December 15, 1955 in Wisconsin Rapids, Wisconsin to Bertie and Barbara (Rathermel) Tolley.
During High school he worked for Lewis Container (Castle Rock) for two years and graduated from Adams-Friendship High School in 1975. He enlisted with the United States Air Force in 1976 and was stationed at McDill AFB in Tampa Florida. While working as Military Police he was on the air force shooting and powerlifting teams for his base. Upon arriving home he returned to his job at Castle Rock.  He married Carol McLaughlin on June 18, 1983.  They were blessed with two children, Sara and Madison.
Louis enjoyed hunting, fishing, bowling and (golf?), camping, going to car shows and skiing.  He was a jack of all trades living life to its fullest.  He loved helping anyone that needed it whether it was unlocking doors, fixing computers, cooking or fixing things around the house.  Louis was very active in the community, he achieved Eagle Scout honors, coached boys and girls Little League and hockey and was a member of Quincy Masonic Lodge where he achieved Master status.  He was also a member of the Arkdale Trinity Lutheran Church, Friends of the Park, A-F Youth Club Sports, Adams County Pistol League and USW Local 131. Louis was a significant part in the running of A-F Floral for over 20 years.
He was preceded in death by his infant brother, Bertie Christian Tolley
Survivors:
Daughter:  Sara (Mark Bertram) Tolley of Fond Du Lac, Wisconsin
Son:  Madison (Jackie Emmerich) Tolley of Oshkosh, Wisconsin
Mother:  Barbara Tolley of Sparta, Wisconsin
Father:  Bertie (Loretta) Tolley of Nekoosa, Wisconsin
Brother:  Kenneth (Virjean Renner) Tolley of Mauston, Wisconsin
Sister:  Susan Lunzman of Sparta, Wisconsin
Cherished friend:  Carol Tolley of Adams, Wisconsin
further survived by numerous relatives and friends