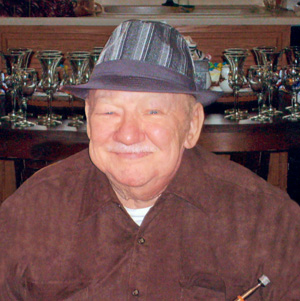 Arthur Wobig, age 85, of Adams, Wisconsin has gone to his heavenly home on Friday, January 16, 2009 at the St. Joseph's Hospital in Marshfield, Wisconsin.

Funeral services will be 11:30 a.m. on Monday, January 19, 2009 at the Roseberry's Funeral Home in Friendship, Wisconsin. Rev. Richard Eberly will officiate. Interment will be at the Mt. Repose Cemetery, Friendship, Wisconsin. Military rites will be offered at the graveside service by the Adams VFW Post #6279; the Adams American Legion Red Cloud Post #250; and the Grand Marsh American Legion Snyder-Richardson Post #273.

Visitation will be 9:30 a.m. until the time of service on Monday at Roseberry's Funeral Home.

Arthur was born November 12, 1923 in Milwaukee, Wisconsin to Bernhard and Anna Marie (Rieber) Wobig. He was a veteran of WWII, serving as a bugler and interpreter. Arthur married Marion Ernestine Haversack on July 7, 1951 in Milwaukee, Wisconsin. He worked at Miller Brewery for 33 years before retiring to Adams County in the late 1970's.

Arthur enjoyed flying his own plane, hunting, fishing, bowling, and playing his guitar and harmonica.

Arthur was past commander of American Legion Post #515 in Milwaukee and member of American Legion Post 187 of Wisconsin Dells, and American Legion Red Cloud Post #250 of Adams. He was also a member of Adams-Friendship Senior Citizens and the Golden Ages.

Arthur was preceded in death by parents; wife, Marion Ernestine Haversack; and sisters: Betty Esser and Marilyn Priebe.

Survivors:

Daughter: Bernice (Pete) Horvatin of New Berlin, Wisconsin Daughter: Audrey (Mike) Resch of Fond Du Lac, Wisconsin Grandchildren: Kim, Daniel (Kay), Melanie (Paul), Michelle, and Kyle Great-Grandchildren: seven Sister: Carol (Robert) Spieckerman of Mauston, Wisconsin Sister: Kathleen (James) Sommer of Sussex, Wisconsin Sister-in-law: Dorothy Wustrack of Westlind, OR further survived by nieces, nephews other relatives and friends.

A special thank you to the Doctors and Nurses at St. Joseph's Hospital in Marshfield and to the staff at Liberty Manor for their loving care they provided to dad.

Roseberry's Funeral Home is assisting the family. Visit www.roseberrys.com for online condolences and further information.
or Send Your Condolences Now