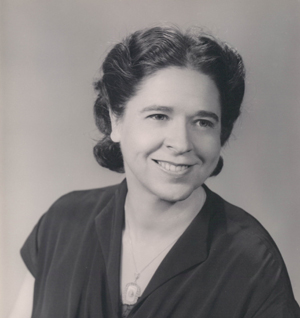 Geraldine Mildred Berndt "Aunt Geri", age 94, of Wisconsin Dells, passed on to be with the Lord February 17, 2009 at the Liberty Manor in Adams, Wisconsin.

The celebration of Geraldine's life will be 11:00 a.m. on Thursday, February 26, 2009 at the United Presbyterian Church

in Wisconsin Dells, Wisconsin. Pastor Steve Keller & Pastor David Bowman will officiate. Interment will be at the White Creek Cemetery, White Creek, Wisconsin.

Visitation will be Thursday at the United Presbyterian Church in Wisconsin Dells from 10:00 a.m. until the time of service.

Geraldine was born May 29, 1914 in Cleveland, Ohio to George Edward and Lillian Mildred (White) Jones. She graduated from high school and completed two years of college in Cleveland Ohio. Geraldine was united in marriage to Lloyd Wintersteen on January 10, 1943 in Cleveland, Ohio, who passed in his mid 50's and is buried in the White Creek Cemetery.

She was a bookkeeper for many years for Lloyd's medical lab that he opened after his service in the Army as a medic.

In December of 1962 Geraldine married Elmer Berndt of Wisconsin Dells and spent the next seven years as owners/operators of the Arrowhead Motel in Wisconsin Dells. They spent their winters in Florida where she enjoyed fishing and gathering cypress knees with her husband and housekeeper Gracie. Geraldine also enjoyed bow-hunting and rifle hunting. She was well known for her passion for chocolate.

Geraldine found great joy in providing philanthropically for her Church, Hope House, Mary House of Hospitality and the Gunderson Lutheran Hospital Chaplains Training Program of La Crosse.

She was a member of the Wisconsin Dells Order of the Eastern Star. She served as a Worthy Matron beginning in 1987 and became a Perpetual Member in 1991.

Geraldine will be dearly missed by her family and Cookie and Tess.

Her wishes were that memorials be directed to the Big Spring Church Building Fund.

She was preceded in death by: her husband, Elmer Berndt, First husband, Lloyd Winterstein;

brother: Wally Jones; niece: Linda Standon; and housekeeper and friend, Gracie Pierson.

Survivors:

Niece: Nancy (David) Bowman of Wisconsin Dells, Wisconsin

Niece: Barbara (Jim) Roddy of Tucson, Arizona

Further survived by 10 great nieces & Nephews, 23 great grand Nieces & nephews and one great great grand niece.

Roseberry's Funeral Home is assisting the family. Visit www.roseberrys.com for online condolences and further information.